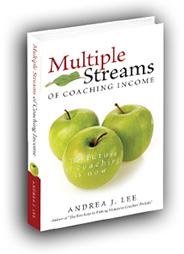 Andrea J. Lee has a mission. "To put money into the pockets of 10,000 coaches by 2008." Her book Multiple Streams of Coaching Income can certainly help coaches do just that.

Recent studies had indicated that many coaches are struggling financially. You may have seen the recent statistics about how many coaches are succeeding financially.

The International Coach Federation survey of members in 2003 found that 32.3% of coaches earned less than $10K per year.
Stephen Fairley, a business and executive coach, surveyey 300 coaches and found that 73% of all coaches made less than $10,000 in their first year.
Andrea offers a different way of doing things. A paradigm shift.

I read the entire book. Andrea covers the entire spectrum of making money as a coach. The mindset needed. Finding a niche. At least 3-5 pages on each of the 13 possible income streams.

It complements "Section 9: 18 Additional Ways to Make Money as a Coach" of the How to Become a Coach ebook. You have that in your digital library, right? (If not, visit: How to Become a Coach)

Did I mention exercises follow each chapter? It's not just about reading... It's about taking action. No excuses like... but I'm not coaching yet. No one said you had to wait until you were trained as a coach to start creating products. If you have an area of expertise or a passion, start creating. Start to fill your funnel now! Wondering what a funnel is?

Check out Multiple Streams of Coaching Income today!

Have a great day!

Sue Bond

Authour of How to Become a Coach
Return to Coaching Articles.
Copyright (C) Sue Bond 2003-2008. All Rights Reserved.